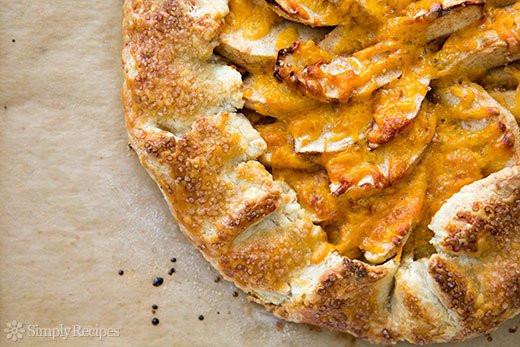 Apple-Walnut-Ginger Galette
People are impressed by the presentation of this dish, but they wouldn't be if they knew how easy it is. Save your time using this recipe still serving delicious and spectacular dessert.
Ingredients
[ingredients]
3 large Gala apples, peeled, cored and thinly sliced
1/4 cup chopped walnuts
1/4 cup chopped crystallized ginger
2 tablespoons plus 2 teaspoons brown sugar, divided
1 tablespoon all-purpose flour
3/4 teaspoon cinnamon
1 trans-fat-free piecrust 
Vegetable oil cooking spray
[/ingredients]
Directions
[directions]
Heat oven to 400°F. In a bowl, toss apples with walnuts, ginger, 2 tablespoons sugar, flour and cinnamon. Roll pie crust into a 12-inch circle, about 1/8-inch thick.
Coat a baking sheet with cooking spray; place pie crust on sheet. Arrange apple slices in one layer to form a circle about 3 inches from edge of pie crust; fill in circle with more slices.
Scrape any remaining walnuts and ginger from bowl onto apples. 

Gently fold edges of pie crust over outer edge of apple filling to form a thick crust.

Spray outer rim of crust with cooking spray; sprinkle crust with remaining 2 teaspoons sugar.

Bake until crust is golden brown and apples are soft, 35 minutes. Cut into 8 slices and serve.
[/directions]
Thanks [license-url]epicurious.com[/license-url]for recipe