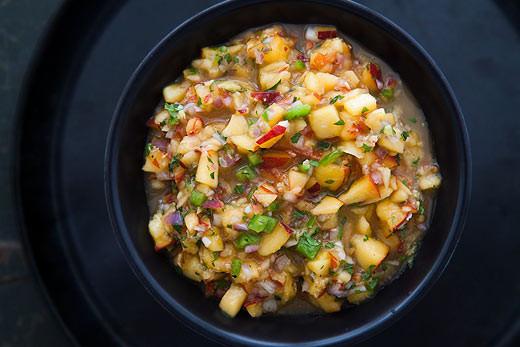 Peach Salsa
At your disposal, here's a quick and easy salsa, made with fresh peaches, jalapeños, lemon, ginger and mint, that goes beautifully with the grilled meats of your outdoor dinners.
Ingredients
[ingredients]
4 ripe but firm yellow peaches
2-3 Tbsp chopped shallots or onions
2-3 jalapenos
Lemon juice
2 Tbsp chopped fresh mint
2 Tbsp grated ginger
1 teaspoon sugar
Salt and black pepper to taste
[/ingredients]
Directions
[directions]
Prepare peaches. Skin on or off, your choice, skin on makes for better color, but if skin is too thick or fuzzy you may want to peel first. Then chop.
Put the chopped peaches, shallots, and jalapeños in the bowl of a food processor. Add the remaining ingredients. Pulse 2-3 times, just enough to get most the pieces small and to well combine the salsa. Do not liquefy it.
Place salsa into a bowl and cover. Let stand for an hour before serving to give the ingredients time to meld.
Serve with chips, with fish, pork, or chicken.
[/directions]
Thanks [license-url]simplyrecipes.com[/license-url] for recipe