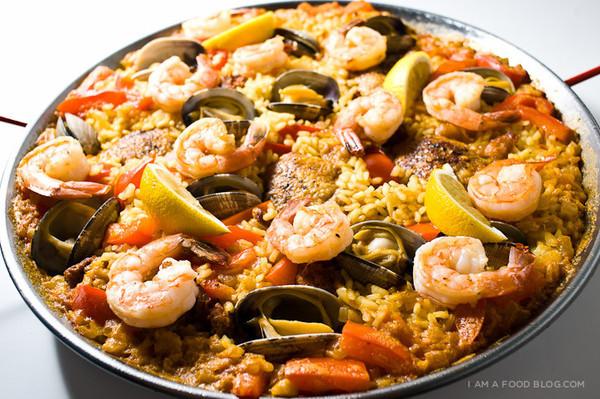 Paella
Bring Spain to your dinner making this spicy seafood paella and you won't regret. This is really a festive meal where even the color looks enticing and the taste is much more better.
Ingredients
[ingredients]
30 threads saffron, crushed
4 chicken thighs
10-12 large shrimps, peeled and deveined
salt and freshly ground pepper, to taste
1/2 cup extra-virgin olive oil
1 tablespoon Red Mixed Spice
1/2 tablespoon smoked paprika
3 cloves garlic
3 medium tomatoes
1 small onion
7 cups chicken broth
2 1/2 cups short-grain rice
1 red pepper
12 clams
[/ingredients]
Directions
[directions]
Put saffron and 1⁄4 cup hot water in a small bowl; let sit for 15 minutes. Season chicken and shrimp with salt and pepper. Heat oil in a 16″–18″ paella pan over medium-high heat. Add chicken, shrimp, and chorizo and cook, turning occasionally, until browned, about 5 minutes.
Transfer shrimp to a plate, leaving meats in pan. Add paprika, garlic, tomatoes, and onions to pan and cook, stirring often, until onions soften, about 6 minutes. Add reserved saffron mixture and broth, season with salt, and bring to a boil over high heat.
Sprinkle in rice, distribute evenly with a spoon, and add peppers. Cook, without stirring, until rice has absorbed most of the liquid, 12-15 minutes. (If your pan is larger than the burner, rotate it every two minutes so different parts are over the heat and the rice cooks evenly.)
Reduce heat to low, add reserved shrimp, and nestle in clams hinge side down; cook, without stirring, until clams have opened and rice has absorbed the liquid and is al dente, 5–10 minutes more. Turn heat to high for 1-2 minutes to create the socarrat. Remove pan from heat, cover with aluminum foil, and let sit for 5 minutes before enjoying.
[/directions]
Thanks [license-url]iamafoodblog.com[/license-url] for recipe